.
.
Frequently Asked
Questions
ACCESSING THE CENTRAL SIGNAL
CUSTOMER PORTAL
Before You Begin
We recommend using Chrome as your browser when accessing the Customer Portal. To begin, you must have an active account with an email address on file with Central Signal Corp (CSC). If not, please contact us.
Setting Up Your Personal Customer Portal
To access the Customer Portal, click on the address link below:
https://centralsignal.alarmbiller.com/dealer/dealerAccount/Login:
While visiting our website, you may also click on Support, then Customer Portal to be redirected to the Central Signal Customer Portal login page.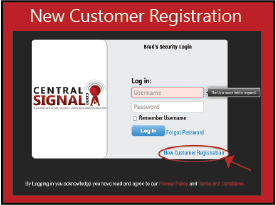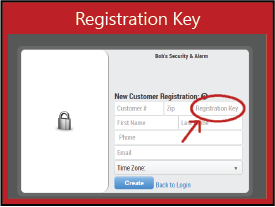 Instructions for accessing the Customer Portal for the first time.
At the portal login screen, select New Customer Registration
Enter in the following fields: Customer #, Zip Code, Registration Key, First Name, Last Name, Phone (including area code) and Email. The information that you have on file with Central Signal is what needs to be entered in these fields. (If Central Signal uses your formal name James, you must use James, not Jim, when completing the New Customer Registration page.) The Registration Key can be found at the bottom of of a recent invoice or by calling Central Signal
After the fields are completed click on Create.
An email will be sent to the address you entered in the email field. Check your email inbox. The email will give you your Username (email address), as well as a temporary password.
Click the address link at the bottom of the email. Enter your Username and temporary password provided in the email. Select Log In.
You will now be asked to reset your password. (Please note: passwords are case sensitive.) Enter your new desired password and then re-enter it again in the Confirm Password field. Then click on Reset Password.
Your Customer Portal is now configured and ready to be accessed. Enter your Username and Password and select Log In.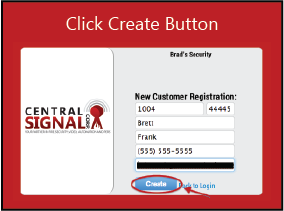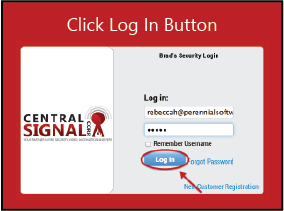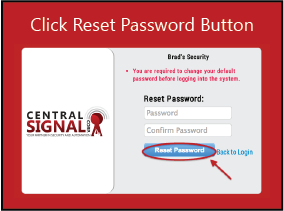 Congratulations! You have successfully set up your personal Customer Portal.